Art is a daily battle. I commit myself to fighting it every day!
James Conlon in 1985.
A biography
James Conlon was born in New York on March 18, 1950. Music was not very important in his family, he had a grandfather who used to play the violin but he was the only musician. As a schoolboy he came into contact with classical music when the mother of a friend took the boys to the première of an amateur performance of Verdi's "La Traviata". James went along reluctantly but, as he said later, he "went three times in two months and was sold to music for life". He told his parents he wanted to become a conductor and began to take piano and violin lessons.
He studied at the city's High School of Music and Art and in 1968 continued his studies at the famous Juilliard School of Music. His professional debut was in 1971 at the Spoleto Opera Festival in Italy where he conducted Boris Godunov. He made his New York debut while still a student in February 1972 conducting La Bohème at the Juilliard School as a protégé of Maria Callas who was, at the time, giving masterclasses in New York.
Three years later , at the invitation of Pierre Boulez, he was the youngest guestconductor in history to lead the New York Philharmonic Orchestra in a series of concerts. Just two years later he made his Metropolitan Opera debut.
The start of his career was typical for the direction his professional life would take, James Conlon was going to divide his time between opera theater and concert-hall.
His association with the Metropolitan Opera since his debut there in 1976 has been a successful one. He conducted a wide range of works in the Italian, German, French, Russian and Czech repertoire. He also appeared with major orchestras throughout the United States and Canada.
In Europe he worked with the Berlin Philharmonic, the London Symphony, The Orchestre de Paris, and the Kirov Opera of St. Petersburg. He performed at the London Royal Opera, The Paris Opera, The Chicago Lyric Opera and La Scala in Milan.
Since 1979 he has been music director of the The Cincinnatti May Festival, the oldest choral music festival in the United States.
As director of this festival mr. Conlon feels he has a mission. In his own words:
"I remember how much classical music meant to me, as a child. And if I had any mission in America at all, the one that's important to me is to use whatever personality I had to open that door to a lot of Americans who could love music, and who don't yet."
He is also a frequent guest conductor at other music festivals such as Aspen, Ravinia, Saint Denis and Tanglewood.
From 1983 to 1991 he was music director of the Rotterdam Philharmonic.
With this orchestra he recorded works of Mozart, Weber, Liszt, Puccini, Bartók, Janáçek, Stravinsky and Poulenc (for which he received the Grand Prix du Disque 1986). They toured through Western and Eastern Europe, The United States, Japan and Korea.
In 1989 James Conlon assumed both symphonic and operatic responsability in Cologne, Germany, when he became general music director of the Gürzenich-Orchester Kölner Philharmoniker and chief conductor of the Cologne Opera. He was the first person in forty-five years to combine both positions. Each season he conducts several productions in a wide variety of repetoires and he brought the Cologne Opera on its first ever tour to Japan. More recently he took them on a tour of Austria, Greece and Switzerland. His recordings with the Gürzenich-Orchester Kölner Philharmoniker of von Zemlinsky's one-act opera "Der Zwerg (The Dwarf)" was rewarded recently with three major prices: In France the "Grand Prix du Disque" and the "Cannes Classical Award", in Germany the "ECHO Deutsche Schallplattenpreis".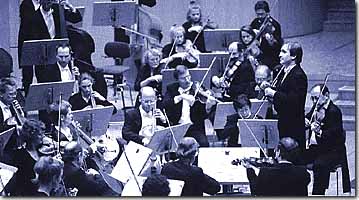 Since August 1996 James Conlon also has full responsability of the Paris Opéra Bastille after being music advisor for the previous season. This opera house, at the time, was having a lot of problems and therefore the acceptance of this post meant a risk. A few of his collegues were fired after a short time but he was optimistic and made a success of it.
In 1996 he was named an Officier de l'Ordre des Arts et des Lettres, a prestigious cultural award of the French Government.

This is what Mr. Conlon said about his appointment to the Opéra Bastille:

"I know what happened to my predecessors and I know it could happen to me too. So what? What have I got to lose? At this time in my life I don't need to prove myself anymore."
He did think about the offer for a long time though, not sure if he wanted the job or not. He already knew the new manager of the Opéra Bastille, Hugue Gall, and he was convinced that the relationship between them was the most important condition for their combined success because the division of responsabilities and control was the main reason for the problems in the past.
"If you should ask me how I would function without power, I would answer that power is an illusion. I don't want power. I do want musical responsability but I don't need total control. The best way to avoid this problem in Paris is to forget about control. I will have enough authority to keep me happy. I can work with the singers of my choise and I can set my own standards, I would not have accepted if that was different."
If, one bad day, Mr. Conlon will be fired, there are so many things to do and places to go. A regular post as main conductor is not neccessary any longer.
"Nothing is forever. When I leave here, it is over. When you think you are important, you are a fool. I liked to think I was but that is in the past."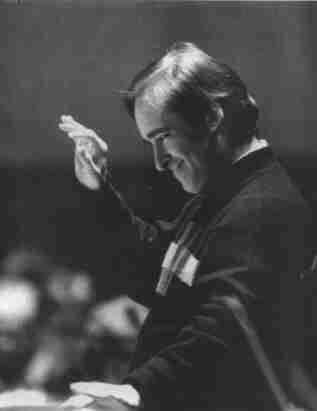 Cites taken from an interview published in 1995 by the "Algemeen Dagblad", a Dutch newspaper.

Luckily, Mr. Conlon survived the politics and intrigue where his predecessors did not. He is in his fourth season at he Paris Opera and has renewed his contract to 2004.
In 20 years, his schedule never eased. He is busier than ever. Every years he comes to Cincinnati as director of the May Festival and he is a regular guest conductor of the Metrolopitan Opera and the Boston Symphony. He often performes at festivals and assist at concours as the famous Van Cliburn International Piano Competition.

About Paris Mr. Conlon said:" I'm extremely happy at the Paris Opera. I can't imagine anything right now that would get me to leave."
Yet, he has announced that he will not extend his contract when it expires in 2004. In his opinion "It will be time both for me and for the Paris Opera, to look forward to something new."
With the start of the season 2005/2006, he will be assuming the position of Music Director of the Ravina Festival in Chicago.
James Conlon is married to soprano Jennifer Ringo and has two daughters, Louisa, 13 and Emma, 5. He lives in the Paris Latin Quarter.

This is what Mr. Conlon says about his profession:
"Being a musician is not merely a profession, it is a way of life. It is a passion, a vocation, an obsession. It is a privilege and a scourge which brings great satisfactions and great torments. Classical music is a spiritual force. It inspires, uplifts, and invigorates; consoles and edifies; challenges us to confront our inner selves and our destinies."
"The only permanent satisfactions come from the love for the music itself, and joy in passing it on to others without asking for anything in return."
"We must also remind ourselves and our audiences that we are not only passengers on a joy ride through the classical repertory, but caretakers and guardians of a time capsule."

You can find me and other sites about James Conlon with:

BACK TO INDEX