The RPHO during the war (1940-1945)

A week later, on May the fourteenth and a few days after the start of the second world war in the Netherlands, Rotterdam was bombed and with the near disappearance of the city, the days of the Orchestra seemed numbered. None of the members were killed but the fire that ruined the rehearsal facility at the Jonker Fransstraat in Rotterdam, destroyed most of the music library and all of the instruments.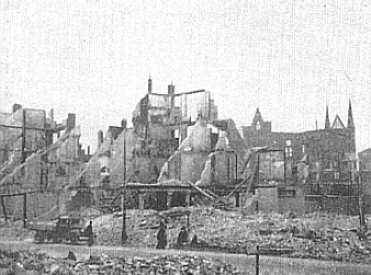 The ruins of the Jonker Fransstraat in May 1940
Several musicians had lost their homes and were supported by their colleagues; still everyone thought it best to continue working. A lot of help came from other orchestras and private persons in the form of funds and instruments. Although problems were abundant, thanks to several other Dutch orchestras who gave concerts to raise money and helped with equipment and sheet music, the season finished according to plan. The "Koninginnekerk, one of the few churches that survived the bombing, was going to be the new concert-hall.
The war caused several other problems amongst which were transportation and black-outs. The most far-reaching (and saddest) change was the obligation to fire Jewish orchestra member. With the institution of the "Cultuurkamer", an organisation meant to regulate the arts in the Netherlands so that it would fit the Nazis, the freedom of all orchestras was diminished. Every musician had to become a member of the Cultuurkamer, Jews had to be fired and music by Jewish composers was banned. This was also the case for music from countries Germany was in war with.
Eduard Flipse hated the Cultuurkamer and had several conflicts with them, mainly because of his choice of music. Flipse refused to follow some of the rules about English, French and Russian composers and stated that German composer lacked the ability to write decent music. At several occasions he used concerts to ventilate his thoughts about the current political situation. This was also something that caused him serious problems with the authorities from time to time.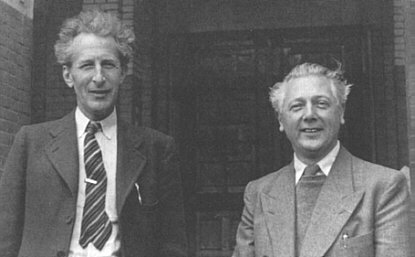 Eduard Flipse and Piet Mevers, second conductor, in 1942
Dutch orchestras were obliged to play for German officers from time to time. This was also a subject of conflict with the Rotterdam Philharmonic. They simply refused and also never helped raising money for military aims. Concerts with German conductors were never a success.

It wasn't until 1966 that, the now called Rotterdam Philharmonic Orchestra, got its permanent home. The "Doelen", built in that year and one of the best modern concert-halls in the world, became their base.

A new era began. The amount of regular visitors was increasing fast and the orchestra became famous in the Netherlands, as well as abroad. The number of concerts was rising and many records were made.
After Eduard Flipse left, the orchestra was directed by Franz Paul Decker and Jean Fournet (1968-1973.

The next six years Edo de Waard, another famous Dutch conductor, was musical director in Rotterdam.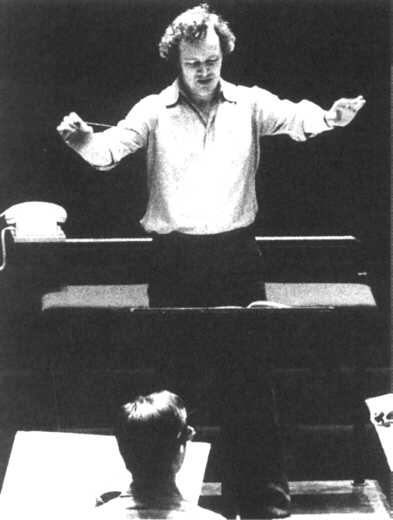 The Rotterdam Philharmonic orchestra has an official homepage. Visit them at: WWW.RPHO.NL