PROFILES OF ORCHESTRA MEMBERS
Conductor Valery Gergiev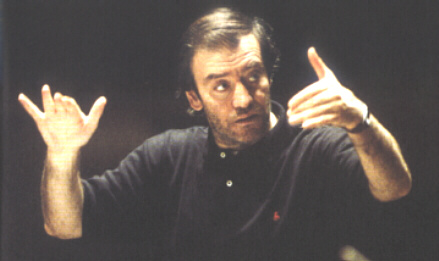 Valery Gergiev was born in Leningrad in 1953. He studied the piano at the Rimsky Korsakov school of music in St. Petersburg but eventually he choose to specialise in conduction and orchestration. He was the pupil of another famous Russian conductor, Ilja Moesin. During his studies he won the first price in a competition for young conductors all over Russia and in 1977 he became first in the Herbert von Karajan competion of Berlin. After that he worked with several big orchestras in his own country. After several guest appearances he became musical director of the Mariinski Kirov Opera Theatre in 1987, first conductor of the Rotterdam Philharmonic Orchestra in 1995 and principal guest conductor of the Metropolitan Opera in New York. During his career Mr. Gergiev won several prices for instance the Dimitri Shostakovitsj award and in 1997 he was chosen conductor of the year by the Classical Music Awards society. Mr. Gergiev once said about his profession:
"Conductors don't really know how they conduct. They don't think about it, they just do. I hear in my head what the orchestra is supposed to play. In my head I imagine the sound. I compare reality with my imagination instantly and only when I am disappointed I react".
His appointment as musical director of the Rotterdam Philharmonic Orchestra was the biggest surprise of the New Year 1995. Gergiev had only performed with the orchestra twice.

Principal guest conductor Gianandrea Noseda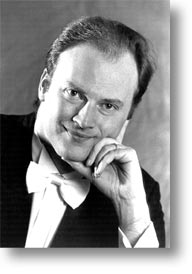 Gianandrea Noseda was born in Milan in 1964. He studied the piano, composition and conducting at the Conservatorio Giuseppe Verdi. In 1993 he attended a master class in Sienna, where he met Valery Gergiev who was teaching there. In a Rotterdam newspaper he later said: "Gergiev showed me for the first time how to transfer the music in my head into the orchestral sound I wanted".
In 1994 he won first price at a competition under the leadership of Gennadi Rozdjenstvenski. This was awarded with an appointment as first conductor of the Orchestra Sinfonica di Milano.
In 1996 Gergiev asked his former pupil to act as a substitute during a. Italian tour of the Kirov Opera. Not long after Noseda was asked as principal guest conductor of this orchestra. He has the same position with the Rotterdam Philharmonic since 1999. Noseda is also performing on a regular basis with several famous symphonic and opera orchestras England, Italy, Holland , Sweden and the United States. During the present music season Noseda will be conducting the Rotterdam Philharmonic on a regular basis.
Mr. Noseda is also first conductor of the BBC Philharmonic Orchestra for the duration of three years. His work with this orchestra starts in 2002.

Assistent conductors Hans Leenders and Ernst van Tiel
In 1999 the RPHO has appointed Hans Leenders and Ernst van Tiel as assistant conductors for the duration of two years. They will assist Valery Gergiev and guest conductors, they will organise rehearsals and will be leading the orchestra themselves as conductor. The allocation of the Bernard Haitink Music Fund to Hans Leenders in 1999 made this possible. The purpose of this fund is to enable young conductors to learn and work at the same time.
Hans Leenders is working with the Rotterdam Philharmonic Orchestra since 1995 as general percussionist. He studied percussion and conducting at the Rotterdam School of Music, where he became a teacher himself in 1997. He supplemented his studies by attending several masterclasses and had lessons in conducting from Arie van Beek.
In 1998 he attended the prestigious Kirril Kondrashin conduction concourse and reached the finals. Besides acting as assistant conductor, he now leads the orchestra at special occasions such as the New Years concert or at promotional concerts.
Ernst van Tiel studied percussion and piano at the Utrecht School of music. Since 1985 he has been taking lessons in conducting with Lucas Vis, Fanco Ferrara and Jean Fournet.

He worked as an assistant conductor with the Dutch Opera. In 1990 he became first conductor and artistic director of the Amsterdam Promenade Orchestra. He also performed with several national and international orchestras like the orchestra of the Teatro Communale of Bologna and the Orchestra of Paris.He specialises in conducting concerts for children.
In an interview he said: "I want to focus the children's attention to the orchestra and the music so they learn to realise that music is more than just sound but that it has a deeper meaning and can cause all kinds of emotions."



Violinist Benzion Shamir
Benzion Shamir grew up in Russia and Israel. He is a member of the orchestra since 1974. So this year (2001) will be his 25 fifth anniversary as a violinist. He is also appointed second orchestra leader. He is working as a teacher at the School of Music in Rotterdam and member of the famous Daniel Quartet together with his collegues Misha Furman, Itamar Shimon and Zvi Maschkowski. This ensemble plays classic quartets ranging from Haydn to Sjostakovitsj. He feels it is important for those musicians who are good at teaching (not everyone is), to share their knowledge and pass on their love for music.


Second violinist Laurens van Vliet
Laurens van Vliet wasn't sure about the career he wanted to pursue. As a child he liked sports as much as playing the violin and he could have been a professional soccer player. However he valued his education and his music more and after high school he went to the Royal School of music in The Hague to mayor in orchestration and the violin. It wasn't until three years later, while studying with the Russian violin player Ilya Grubert that he knew for sure that his future was in music.
Laurens van Vliet is a member of the Doelenensemble, the Doelenquartet and is also engaged in conducting.


Cellist Marien van Staalen
Marien van Staalen is with the RPHO since 1977. At the moment he is first solo cellist. He plays an Italian Violoncello, built by David Tecchler in 1782 in Rome.
He studied the cello and orchestration at the Sweelinck Conservatory in Amsterdam. He also took private lessons from Kirill Kondrasjin en David Zinman. During that time he managed to get a law degree as well.
Besides his work with the Rotterdam Philharmonic he founded the Dutch String Quartet, is a member of the Robert Schumann Trio and conducts the Amadeus Ensemble and the Concerto Rotterdam. With these ensembles he made several recordings pieces from Rachmaninoff, Bach, Vivaldi, Mozart, Mendelssohn and more.
Together with the Belgian pianist Jozef de Beenhouwer he forms a cello-piano duo. As if this isn't enough, he teaches the cello at the Amsterdam and Rotterdam schools of music.

Trombonist Remko de Jager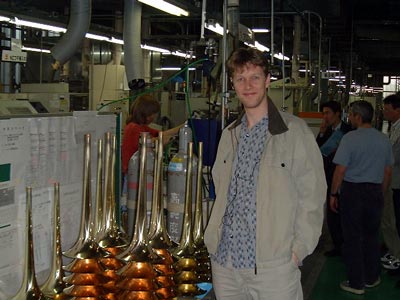 Remko de Jager's career as a trombonist started in 1982 when he decided to take lessons with Rene Kuitert. He was eleven years old at the time. In 1990 he came to Rotterdam to study at the Rotterdam Conservatory as a pupil of George Wiegel. Eight years later he graduated "cum laude". During his studies he was a member of the Frysk Brass Orchestra en the Dutch Youth Orchestra. He also won several awards at music concourse for instance first prize at the competition of the Society for young musical talents in the Netherlands, third prize at the international tromboneconcourse in Nizhny Novgorod (Russia). Together with the Rotterdam Trombone Quartet he was a finalist at the Concert Artists Guild competition in New York. This resulted in a CD recording.
Remko is playing with the Rotterdam Philharmonic since 1997 and even did a solo performance in Michael Haydn's doubleconcert for horn and trombone.
Besides his work for the orchestra Remko is an active member of several ensembles such as the Rotterdam Philharmonic Brass, the Rotterdam Philharmonic Trombone Quartet, the Dutch Wind Ensemble and the Doelenensemble.
Like many of his colleagues Remko teaches at the Rotterdam School of Music.

Trombonist Pierre Volders
Pierre Volders was born in 1972 in the Dutch city of Breda. When he was only six years old, he joined the musical society of St. Joris, where he played the tuba. He also received music lessons by Michael Woldinga. Six years later, he switched from tuba to trombone and subsequently became a member of the National Youth Fanfare Orchestra. When he broadened his activities by doing solo performances with several amateur orchestra's and by enlisting in several concourses, it soon became clear that he wanted to study music so after finishing high school Pierre became a student at the Rotterdam School of Music where George Wiegel taught him. He remained active at competitions like the one organised by the Society for Young Musical Talents of the Netherlands, where he became second. With the Rotterdam Trombone Quartet, of which he was one of the founders, he was one of the finalists of a very prestigious trombone concourse. While he was still studying at the school of music, he became first trombone player at the Dutch Ballet Orchestra and exactly two years later he was appointed at the Rotterdam Philharmonic Orchestra in the function of solo trombone player. After graduation, he immediately became head teacher at the Rotterdam Conservatory and he now runs the trombone class. He is one of the founders of the Rotterdam Philharmonic Brass and together with Remko de Jager, he is a member of the newly founded Trombone Collective. Read more about them at www.trombones.nl

Basstrombonist Ben van Dijk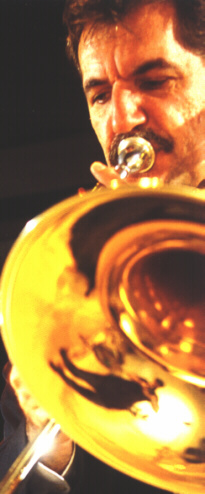 Ben van Dijk received his first trombone lessons from his father, who was solo trombonist of the The Hague Symphonic Orchestra. He continued his studies at the Royal Conservatory in The Hague and obtained a Diploma "cum laude" for Solo Trombonist in 1980. He was the first musician to obtain such diploma for basstrombone.
In 1976 he started his professional career at the Radio Philharmonic Orchestra, where he stayed for 23 years before joining the Rotterdam Philharmonic. He plays on a regular basis with several brass ensembles such as the Dutch Wind Ensemble and the Dutch Jazz Orchestra. Together with several of his colleagues he forms the Rotterdam Philharmonic Brass. With Remko de Jager and Pierre Volders, he participates in the European Trombone Ensemble. He also works on a free-lance basis.
Ben is a professor at the Rotterdam Conservatory and has given master classes at the International Trombone Festival in Detmold in 1992, the ITF in Cleveland in 1994, the Budapest International Brass Festival in 1996 and the Rencontres Internationales de Cuivre in Lille (France) in 1997. In 1998 he was in the United States for two weeks as a guest teacher at several schools of music, amongst which The Julliard School of Music, The Cleveland Institute of Music, The Oberlin Conservatory of Music, The Rice University and The University of North Texas. He did the same thing in Korea in 1999 and 2000.
Besides all his teaching activities he also gives recitals and concerts as in 1997 when he was soloist at the Brandenburger Symphoniker in a program with bas arias from Russian and Italian operas, arranged for bastrombone.
Ben van Dijk is very serious about his music, his instrument and his teaching which shows from the fact that he was president of the Internationale Posaunen Vereinigung from 1995 to 1998 and his membership from the board of devisors of the International Trombone Association.
Ben has recorded a solo album, named Nana. Just click on the cover to find out where you can buy this CD! Use your back button to return to me.



BACK TO INDEX