Without music life would be a mistake.
Friedrich Nietzsche

Logo of the Rotterdam Philharmonic Orchestra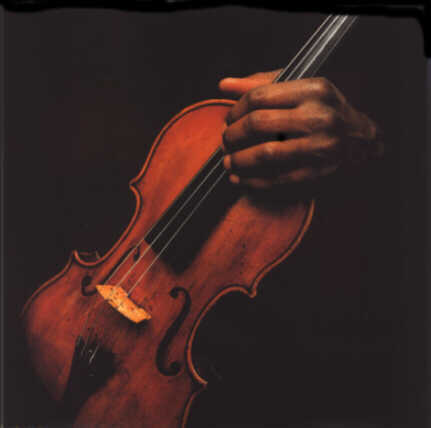 Today the Rotterdam Philharmonic Orchestra finds itself among the best in the international music world. Its members are professional musicians with an apparent love for their art. Critics often praise the uniqueness of their sound and the close harmony they obtain. A visit to the Doelen is always an inspiring experience, not only because of the high standard of music but also because of the enthusiastic way the orchestra members are performing. Not ever does it seem to be just a routine for them; the love for their profession is obvious. This makes their concerts all the more special.
Their success is reflected in the amount of visitors that find their way to the orchestras concerts, more than 110.000 every year. Their success does not stop in the Netherlands. During their international tours they always get high praise. They are well liked in Europe but also in the United States and the Far East.
The quality of the orchestra can be heard on several wonderful cd recordings, by well know labels such as EMI, Erato and Philips. They appear on national television on a regular basis, for instance on sunday afternoons in matinee concerts.
The Rotterdam Philharmonic Orchestra has Valery Gergiev as its first conductor. Gergiev was born in Moscow in 1953. He studied the piano but later he became a student of Ilja Moesin, a famous Russian conductor and teacher at the Moscow school of music. In 1988 he became musical director of the Kirov Theater and also first conductor of the Kirov Opera. In the period of 1989 till 1992 Gergiev was a regular guest conductor in Rotterdam and since 1995 he is the tenth chief conductor. This was not as strait forward as it looks, at the time many orchestras around the world wanted to contract him because he was a becoming very famous very fast. His choice for the Rotterdam Philharmonic was made because of the quality and mentality of the orchestra members and the possibility for artistic growth. Although Gergiev is a very busy man with much obligations world wide, he still wants to be connected to the Rotterdam Philharmonic and has renewed his contract in january 2000.

The Rotterdam Philharmonic Orchestra in full strength as they appear in The Doelen

Facts about the Rotterdam Philharmonic Orchestra
Conductors
First conductor
Valery Gergiev
Principal guest conductor
Gianandrea Noseda
Assistent conductors
Hans Leenders
Ernst van Tiel
Concert leaders
Vacancy
Kees Hülsmann
Stringed instruments
First violin
Kaoru Kakudo
John Helstone
Benzion Shamir
Edward LeCouffe
Fumi Arai
Aesil Kim
Itamar Shimon
Arno Brons
Mireille van der Wart
Shelly Greenberg
Cor van der Linden
Mary O'Reilly
Rachel Browne
Maria Dingjan
Janwillem Toebes
Marie-José Schrijner
Noëmi Bodden
Vacancy
Second violin
Mieke Biesta
Charlotte Potgieter
Misha Furman
Frank de Groot
Ages Tönkö
Zsofia Kiss
Philip Philipse
Lucian Mihailescu
Pieter van der Peijl
Mieke Bruijning
Ebred Reijnen
Tomoko Hara
Jolijt Kalkman
Elina Hirvilammi
Jun Yi Dou
Bob Bruijn
Laurens van Vliet
Voila
Ron Ephrat
Vacancy
Maartje van Rheeden
Michel Dobrowolski
Coen van der Heide
Wilbert Scheifes
David Cox
Alison Ewer
Kerstin Bonk
Caro Wiering
Alexander Prummel
Janine Baller
Francis Saunders
Contantijn van de Wetering
Violoncello
Marien van Staalen
Floris Mijnders
Wladislaw Warenberg
Joanna Pachucka
Rob Hageman
Toshifumi Waki
András Hegyi
Eekje HoenderdaalMario Rio
Mariëtte Landheer
Gé van Leeuwen
Eelco Beinema
Carla Schrijner
Double bass
Hans Krul
Peter Luit
Bert van Dinteren
Ton Doomernik
Hardmoed Grefe
Harke Wiersma
Robert Franenberg
Peter Leerdam
Matthew Midgley
Harp
Charlotte Sprenkels
Wind instruments
Flute⁄piccolo
Jo hagen
Juliëtte Hurel
Désirée Woudenberg
Wim Steinmann
Oboe⁄English horn
Remco de Vries
Alexei Ogrintchouk
Hans Cartigny
Ron Tijhuis
Clarinet⁄bass clarinet
Henk de Graaf
Sjef Douwes
Jan Jansen
Romke-Jan Wijmenga
Bassoon
Johan Steinmann
Vacancy
Marianne Prommel
Hans Wisse
Horn
Martin van de Merwe
Rob Stoel
Nico van Vliet
Jos Buurman
Wendy Leliveld
Richard Speetjens
Trumpet
Ad van Zon
André Heuvelman
Arto Hoornweg
Simon Wierenga
Jos Verspagen
Trombone⁄basstrombone
Pierre Volders
Alex Verbeek
Remko de Jager
Ben van Dijk
Peter Veenhuizen
Tuba
Hendrik–Jan Renes
Percussion instruments
Timpani⁄general percussion
Randy Max
Danny van de Wal
Gerard Vermeulen
Huub Righarts
Ronald Ent
Total number of musicians: 114
Staff members: 22


Look at the Rotterdam Philharmonic in action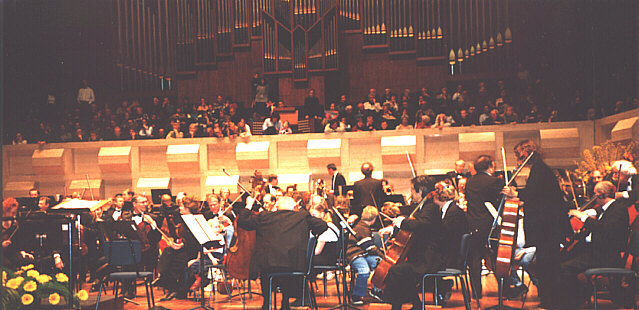 This picture is taken during a promotional day for the Rotterdam concert-Hall in March 2000, the Rotterdam Philharmonic is getting ready to perform
Look at the children sitting on stage. They are members of the Young Friends of the Rotterdam Philharmonic and they won a competition. Their price: sitting next to their favourite instrument and have a look at close range. The musicians are having fun too!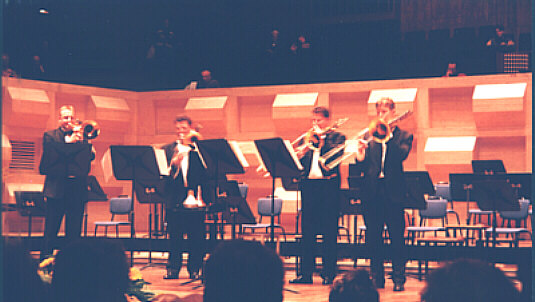 The members of the Rotterdam Trombone Quartet on stage. They gave a great performance, playing music by Enrico Morricone, Bach and Prokovjev.

The Rotterdam Philharmonic orchestra has an official homepage. Visit them at: WWW.RPHO.NL